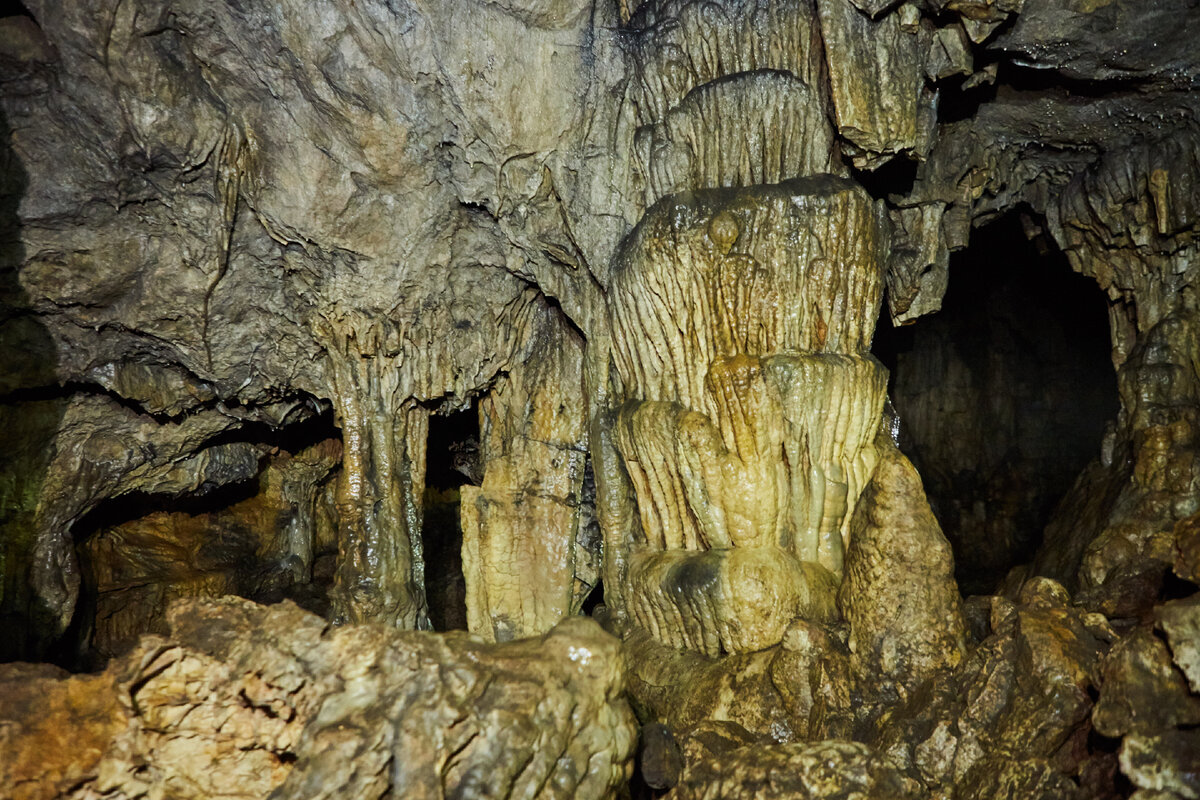 The cave is wild, not equipped. Unlike its name, we did not find a lake inside, but maybe we were there during the dry period. They write that after heavy rains a small lake forms in the cave. The cave is little known, there are few people there. During the visit, we met only one tourists who were going to meet us. When we went the second time, we did not meet anyone at all except a couple of horses.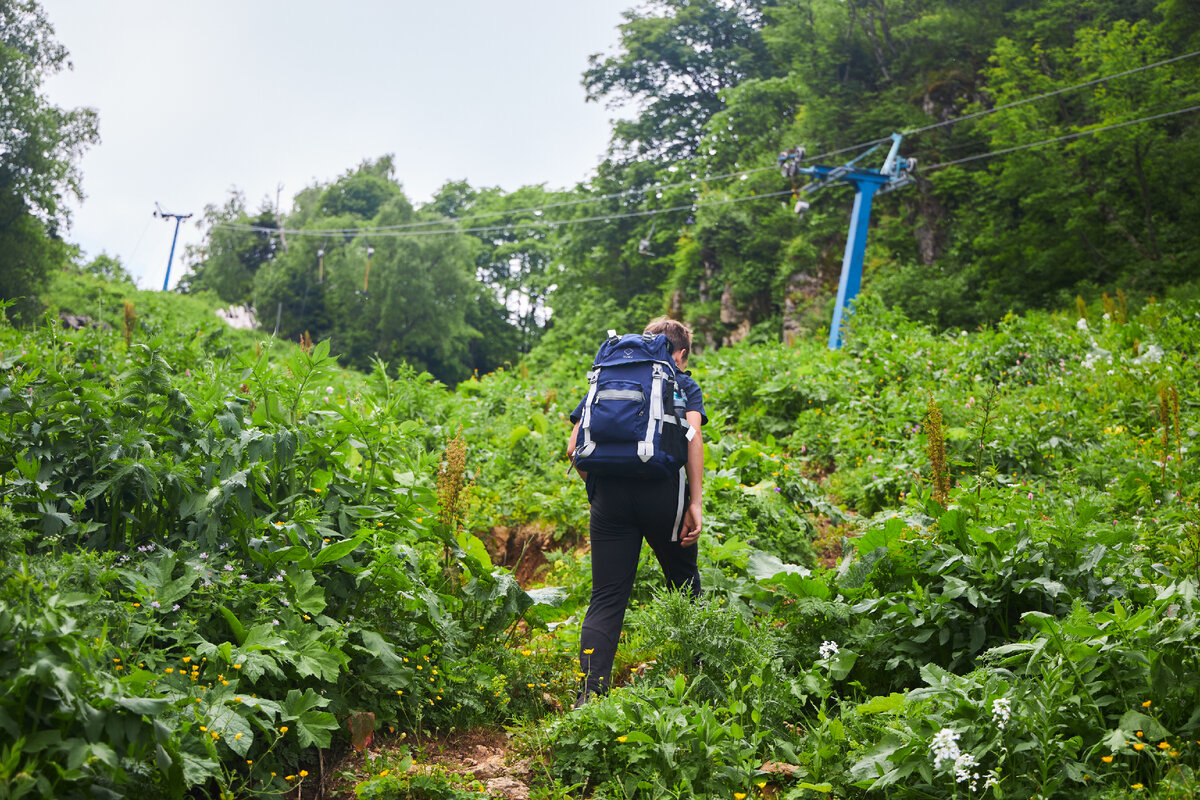 The ascent to the cave begins from the path, which is visible on the left ridge immediately after the Azish-Tau hotel (if you look at the Lago-Naki plateau). A stream flows there, along a path above it, do not miss it. First, we keep to the ski tow bar (pillars with cables for the ski lift). The road is not long, we go up to the fork in the paths and turn left. At the end of the article I will leave a link to a detailed video.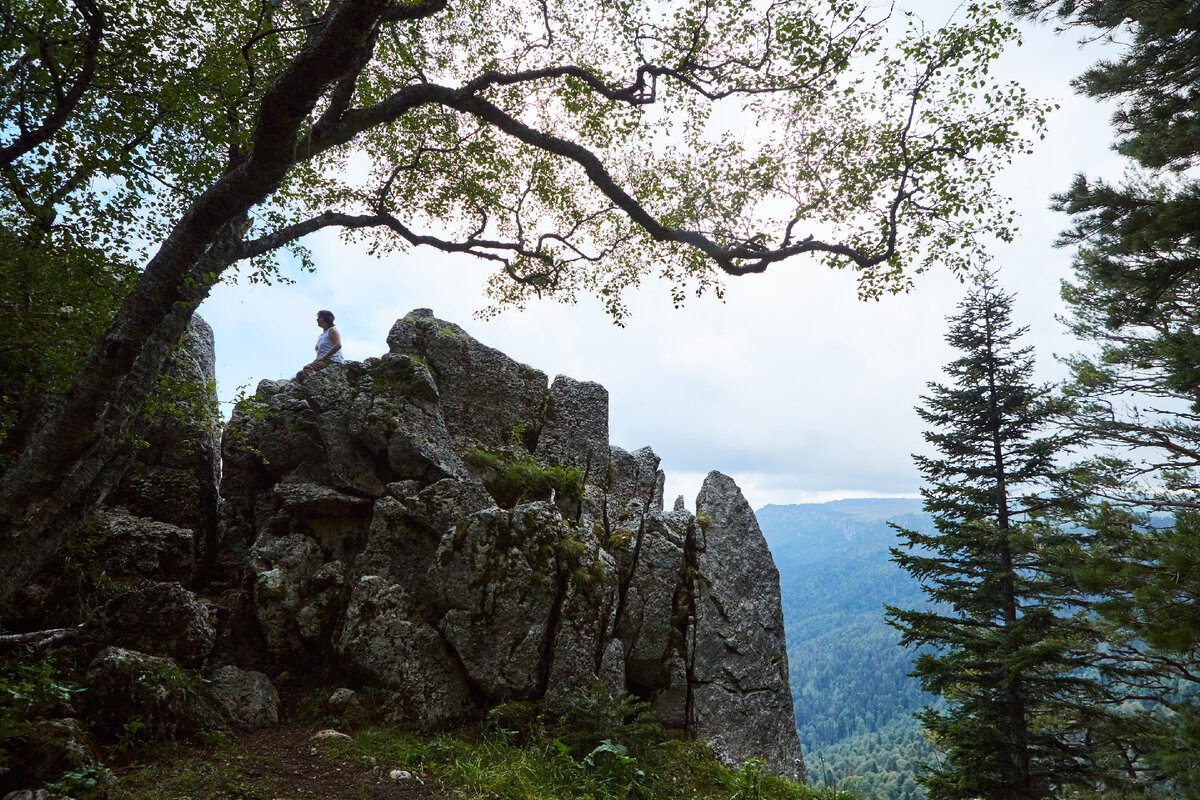 There are many vantage points along the way with stunning views. We get a little stuck with the most spectacular ones.
We move on over the edge of the cliff along the path. The trail is marked, it's hard to get lost. Along the way, we came across a fallen tree. Like a gate to a fairy tale.
After a while there will be a HUGE red arrow on the stump indicating the turn to the cave. We descend a hundred meters and we are already at the entrance to the cave.
There are several halls in the cave, not large, but interesting. Do not go into this cave without a flashlight. The floor is quite slippery. In the halls you can see many stalactites, stalagmites, stalagnates and local residents — bats.
In all halls you stand at full height.
But in some places you need to bend your head so as not to hit sharp swell formations.
The exit from the cave is through the same entrance. It is quite cool inside, as in any cave. But in the summer in a T-shirt it is quite comfortable.
We go back by the same route.
Cave coordinates:
44.082965, 40.019028
Watch our video from this cave:
Friends, please express your opinion about this article by commenting and liking, I will be very grateful to you! Thanks to
Read and watch also in our Zen:
Sights of Adygea. List of interesting things THREE WITH A CAMERA10 July
SUNNY GROTTO. A romantic place in Lago-Naki with gorgeous views.
Agur waterfalls, Eagle rocks and Prometheus grotto. Sochi.
Mount Klementieva. The best viewpoints of the Crimea.