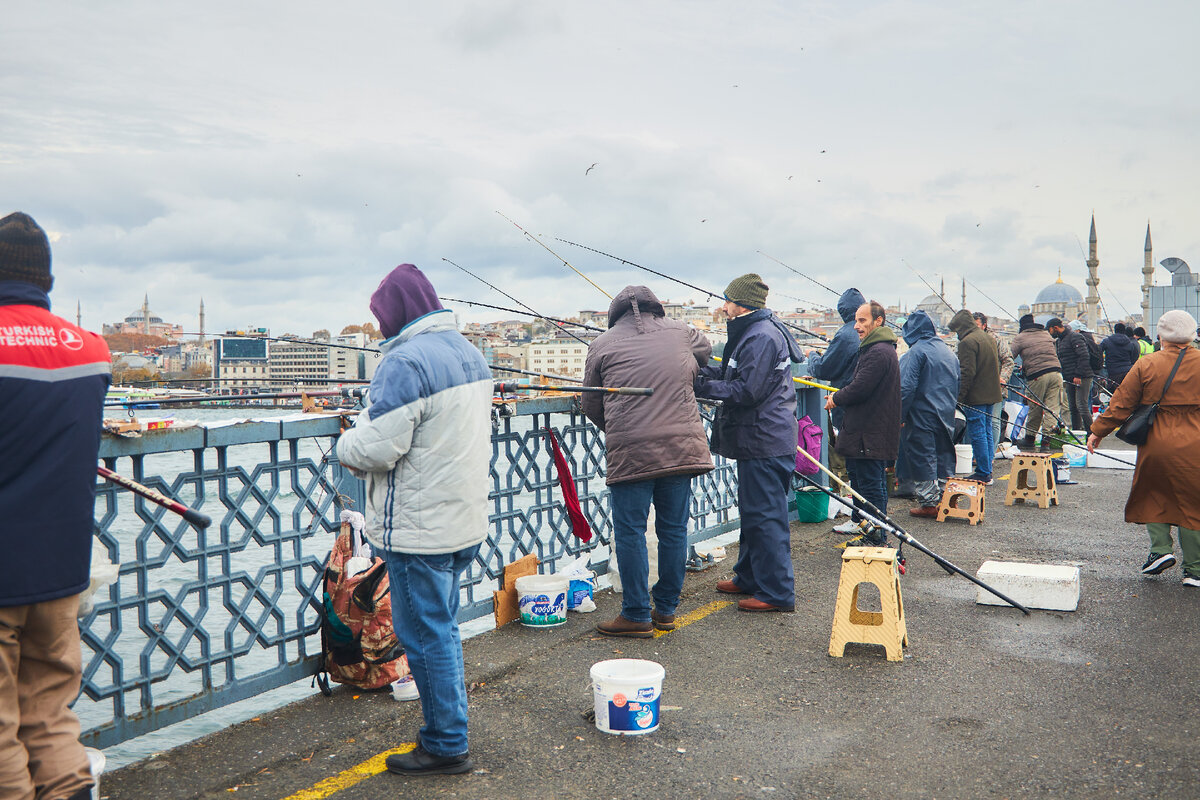 It seems that these fishermen live there, on the bridge, they are always there. Though we were there in the morning, at least almost at night. At a glance, we counted about 200 people attached to the culture of fishing from the bridge
. And under the bridge, boats pass and this does not interfere with fishing, and the fishing line does not get tangled …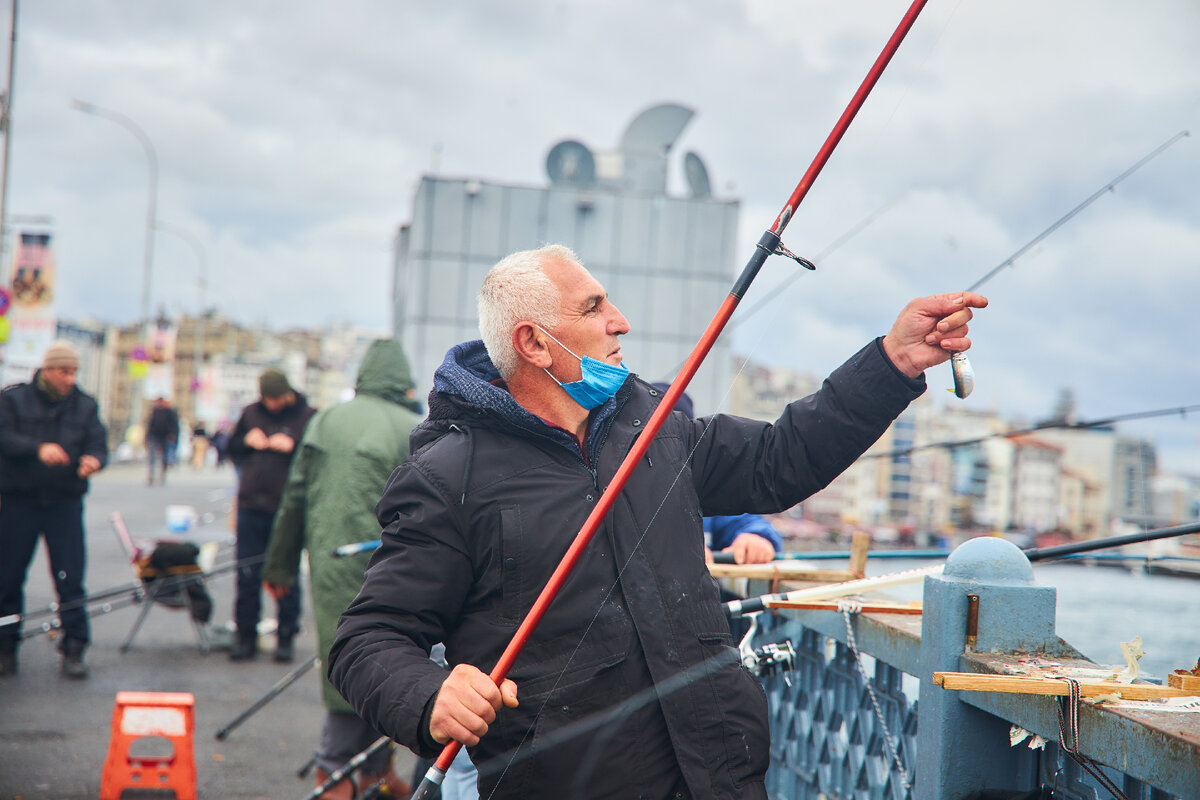 There is the Bosphorus Strait in Istanbul, it separates the European part of the city and the Asian part, including the very border between Europe and Asia. In the European part of the city there is also the Golden Horn Bay, which flows into the Bosphorus. The Galata Bridge is located on this bay. This is just background information.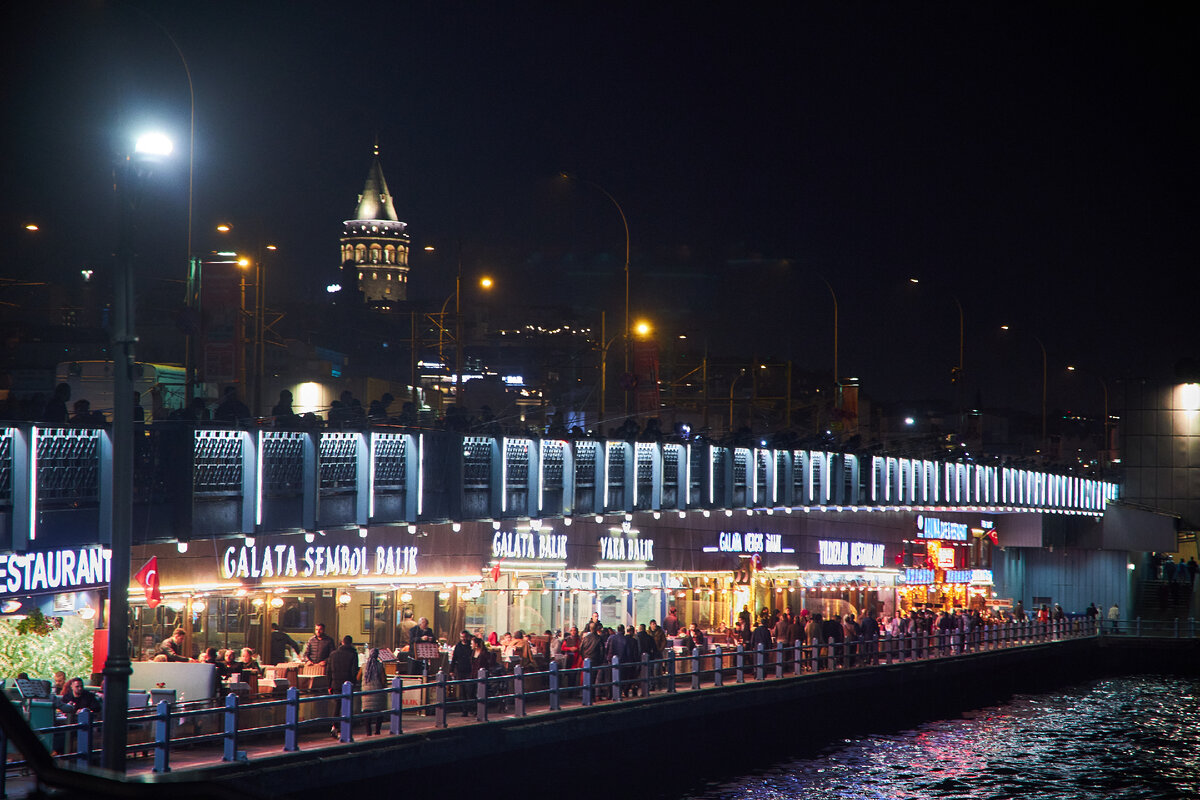 Life is in full swing around the bridge, it is a center of tourism, a large number of attractions are concentrated in a certain radius, as well as a pier for all kinds of ferries and boats, many mosques, restaurants, shops, bazaars … It's not just boiling here, life is seething here, almost around the clock.
And also seagulls, crows and cats
. And in the midst of this turmoil, the fishermen are fishing.
Fish here are sardine, mackerel, mackerel and some other species. The smell of fish on the bridge is such that it hits the nose.
Someone immediately sells their catch, someone takes it away from fish stalls with fast food (they make sandwiches with baked fish, a popular dish near the Galata Bridge), someone takes the fish for themselves.
There are also fishermen who rent fishing tackle and even sell bait (small fish). Some catch of small fish goes to cats and another percentage of fish is taken by seagulls if the fisherman did not pull this fish out of the water quickly enough
.
In general, it is interesting to observe this turmoil and a small separate life within the same bridge. Tourists love to take selfies here, but the fishermen do not mind when they are taken.
This bridge and these fishermen are integral parts of a single mechanism. I think that if all this is removed, then most of the "soul" of a single place in huge Istanbul will be lost. In every city there are such corners that authentically convey the mood of the place. These corners have grown up with the city and continue the same traditions, despite the time and the change of generations…
Friends, please express your opinion about this article by commenting and liking, I will be very grateful to you! Thanks to
Read also in our Zen:
Theodosius cistern. Antiquity found recently. THREE WITH A CAMERA August 7 Princes' Islands. Where members of the imperial family were exiled. THREE WITH A CAMERA April 23 Attitude towards animals in Istanbul. It's amazing THREE WITH A CAMERA July 15 A rainy but vibrant city of contrasts. Istiklal Street in IstanbulTHREE WITH A CAMERAAugust 2 And it was created by people! Historical Museum in Istanbul. THREE WITH A CAMERAMarch 26