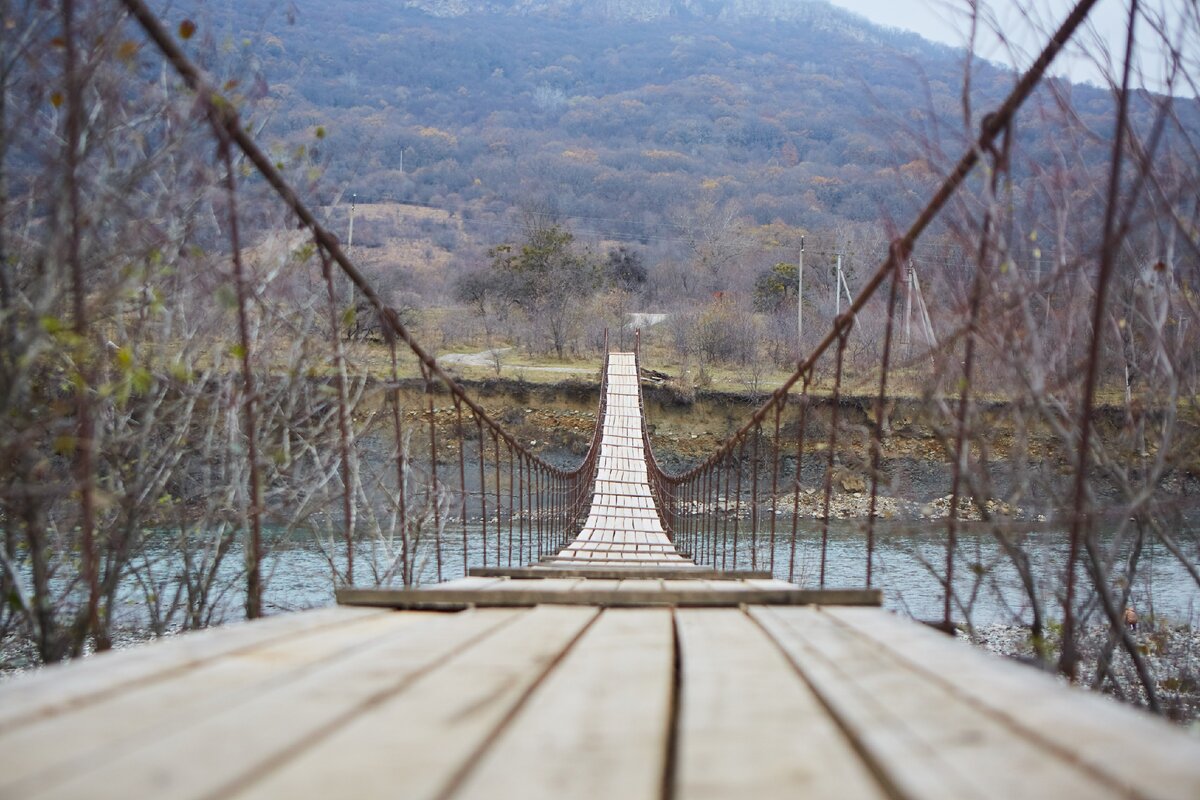 If someone has already been here, then pay attention that the boards on the bridge are new, they were replaced and now the bridge is like a "new penny". We were very surprised when in November they came with their son Yarik for a walk, a pleasant surprise.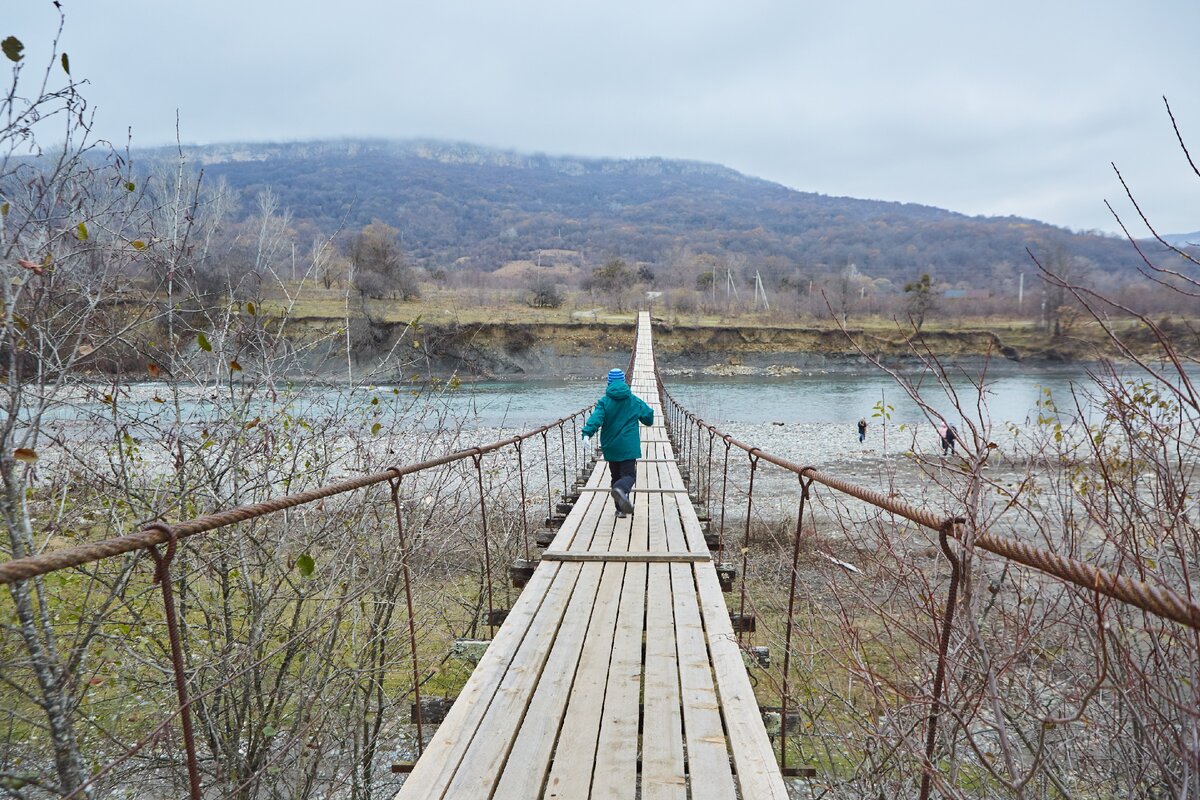 In addition to the famous stone bridge in the village of Dakhovskaya (mountainous Adygea), there is also a suspension bridge across the Belaya River. It connects the coast on which there are residential buildings and, accordingly, the opposite, on which there used to be a large farm and agricultural land. What will we find now by crossing the bridge to the opposite bank? The old brick remains of farm buildings (very colorful abandoned ones, by the way), fields where we collect various herbs during their flowering period, and two man-made lakes (you need to walk a bit to reach them). And also silence and a lot of wild flowers and fruits in summer. We love with a bunch of kids to collect bouquets for every taste and color and run around where transport happens on a gravel road no more than a couple of times a day.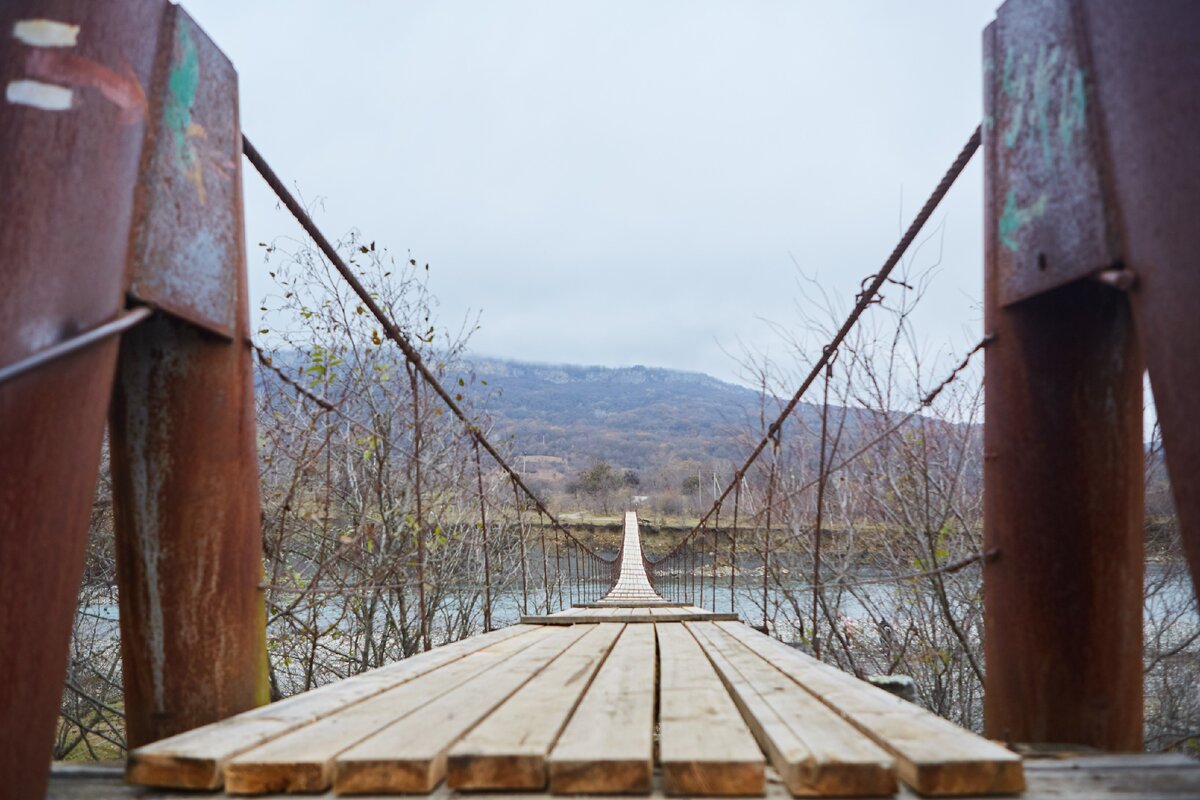 The bridge is very strong, although the boards are periodically angry, I am glad that they are being replaced. It does not wobble much, very solid and fairly strong railings. Below, the magnificent mountain river Belaya roars and rages, flowing down from the slopes of the Caucasus Mountains in the form of small streams and already wide comes to Dakhovskaya. Alloys are constantly passing through Belaya, almost at any time of the year, like a conveyor one raft after another.
Once I watched a motorcycle ride over this bridge. My youth (my son and his friends) constantly ride bikes across the bridge, or rather, they ride on the bridge itself, dismounting, but on a motorcycle … And not even the fact that it can be scary, not at all, but the fact that they lifted the motorcycle onto the bridge along narrow iron steps. Even though he didn't have a choice.
Suspension bridge coordinates:
44.2312456, 40.1933963