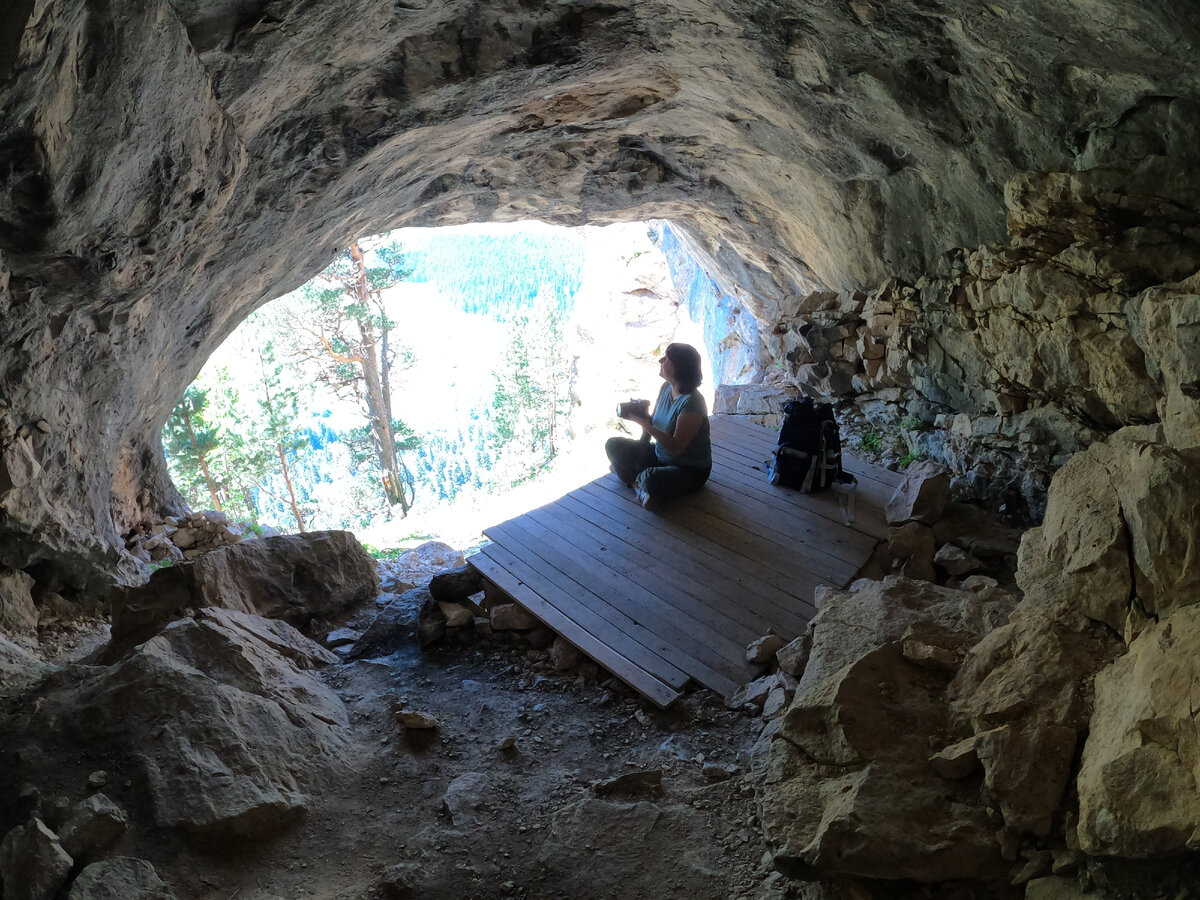 Sun Grotto or Bird's Eye Grotto, the name may differ on different maps. The grotto is very close, the path will not take much time, but the place is pretty, suitable for beautiful photos, and the views from the grotto are lovely. I leave the coordinates of the grotto at the end of the article.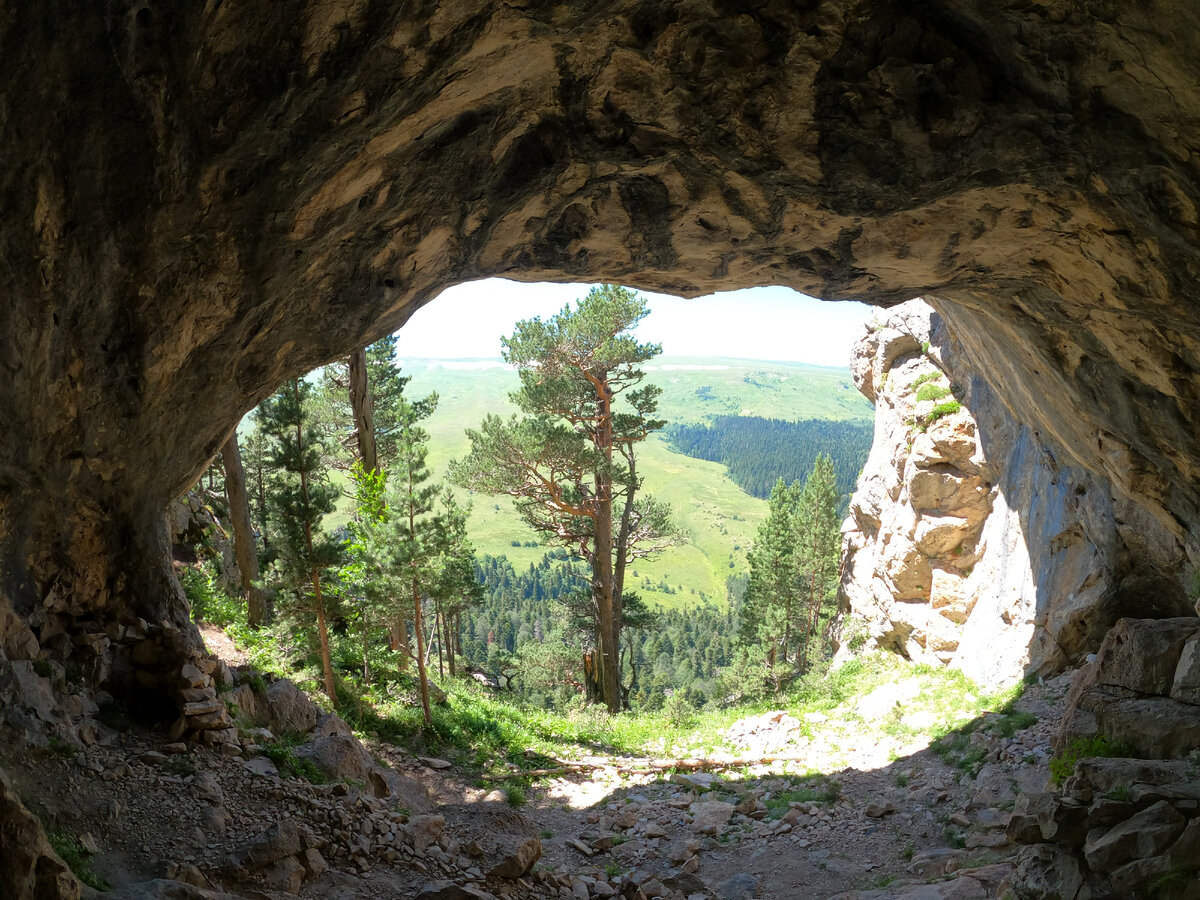 We drive to the Lago-Naki plateau, we leave the car at the standard view point on the Lago-Naki plateau with pine trees. Actually, after 100 meters the road rests on the Caucasian Biosphere Reserve and you will not go far. From these very coniferous trees, standing facing the plateau, we go to the right for about 600 meters.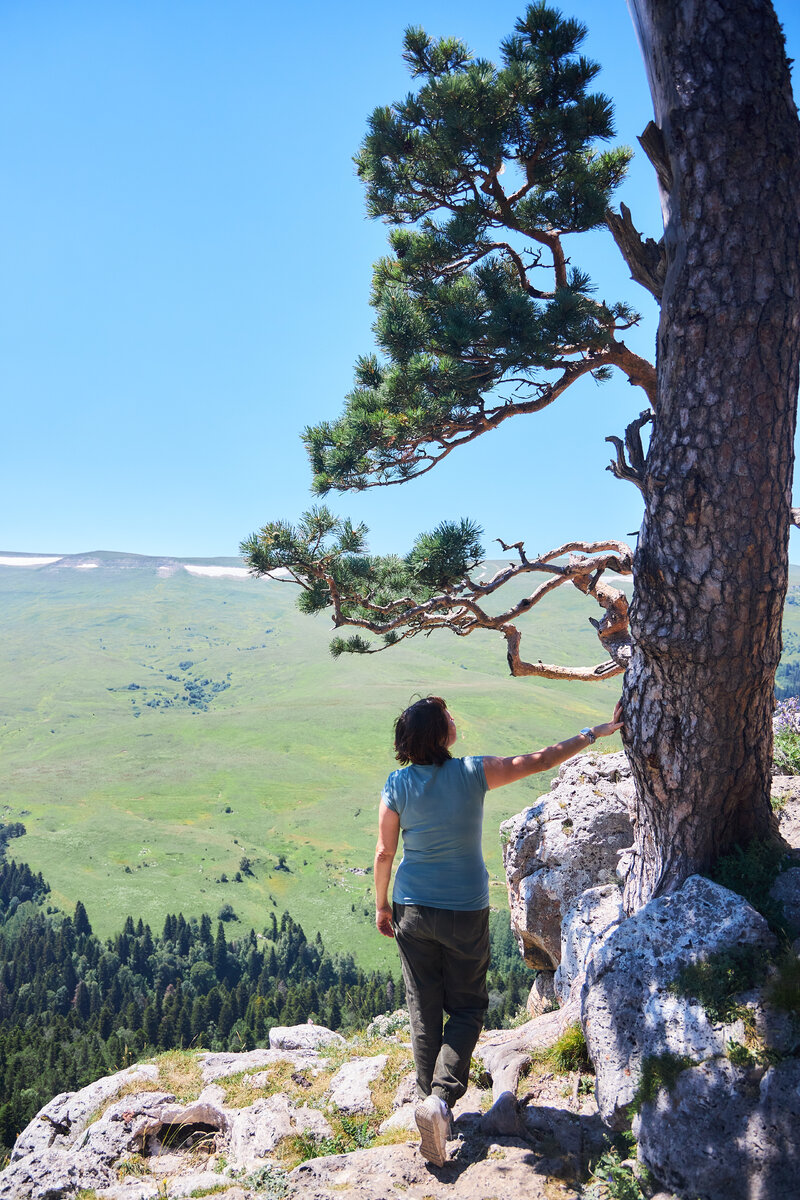 We are located on the rock Iron, by the way. Mountains with snowfields in the distance are Abadzesh. The river Kurdzhips flows below. We try to keep to the cliff, the path runs parallel to it. Along the way, we admire the coniferous forest and viewpoints. There are many markers along the way, so it's hard to get lost. More precisely, it is worth mentioning that you will not get lost in the summer. In winter, when there was snow here, we managed to get lost
.
The only thing to consider: up to three or four tracks can go in parallel in some places. But the essence is the same, everyone goes in the same direction.
When you reach the coordinates to the place, you will see a small path going down. It's just that this grotto is not visible from the path, and not all maps have it. Follow the coordinates. Then a short descent along the rope. Anyone who has never gone down like this can be nervous. Be careful, the rocks can be slippery if you go after the rain, so I recommend going there in the dry season.
Someone's caring hands have built a wooden flooring here, on which it is so pleasant to sit, contemplating the surrounding beauty. It is convenient to make tea and settle down for the night. Let's thank these people for such a gift to tourists!
It is wonderful to sit there and contemplate the beautiful views of the Lago-Naki plateau. I will definitely come back here in the fall, when the forest will be dressed in a yellow outfit and I will arrange a noble tea party.
Place coordinates:
44.456176, 40.032799
I also advise you to watch our video about this place before the trip:
Friends, please express your opinion about this article by commenting and liking, I will be very grateful to you! Thanks to
Read also in our Zen:
Sights of Adygea. List of interesting things THREE WITH A CAMERA July 10 Ozernaya Cave. Wild cave 800m from the road THREE WITH A CAMERAJuly 26 TOP 10 (in our opinion) easily accessible sights of «Lago-Naki» THREE WITH A CAMERA May 6