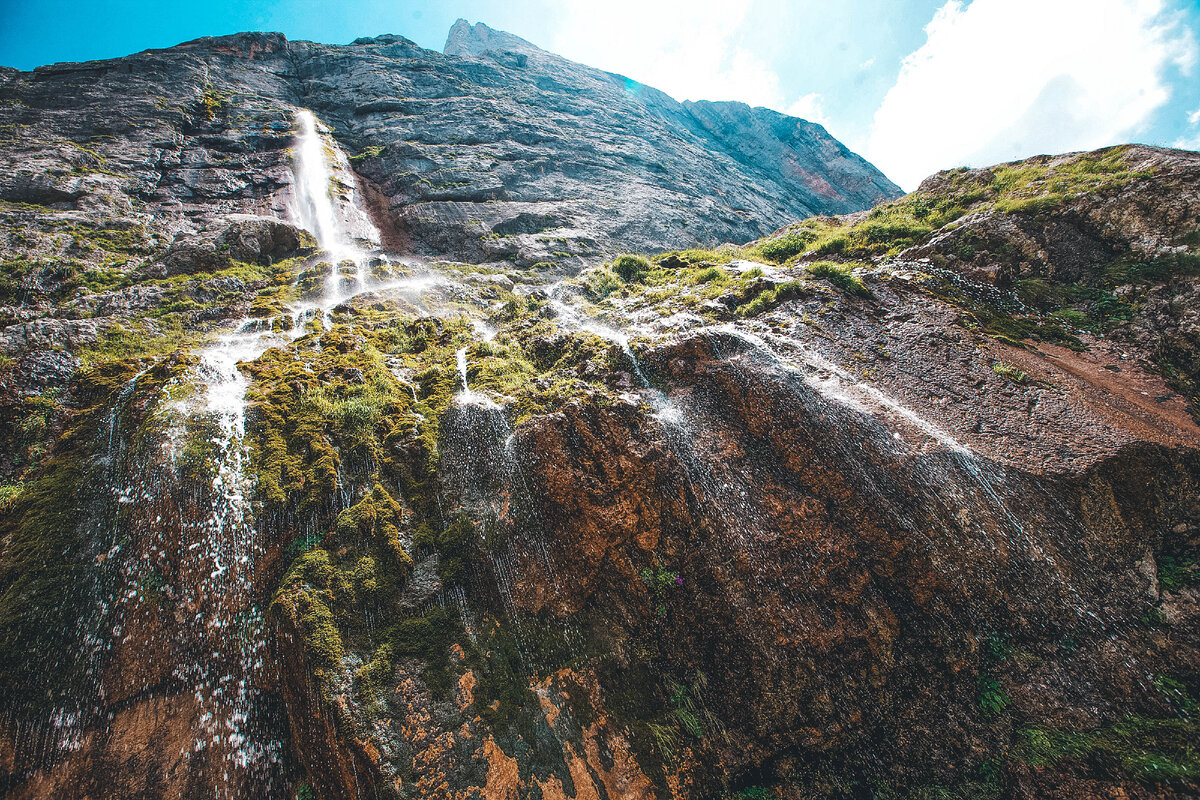 The pictures are not new, but I want this place to also appear in our Zen feed as very interesting and worthy of attention. These waterfalls are one of the highest vertically falling in Russia, about 200 meters high.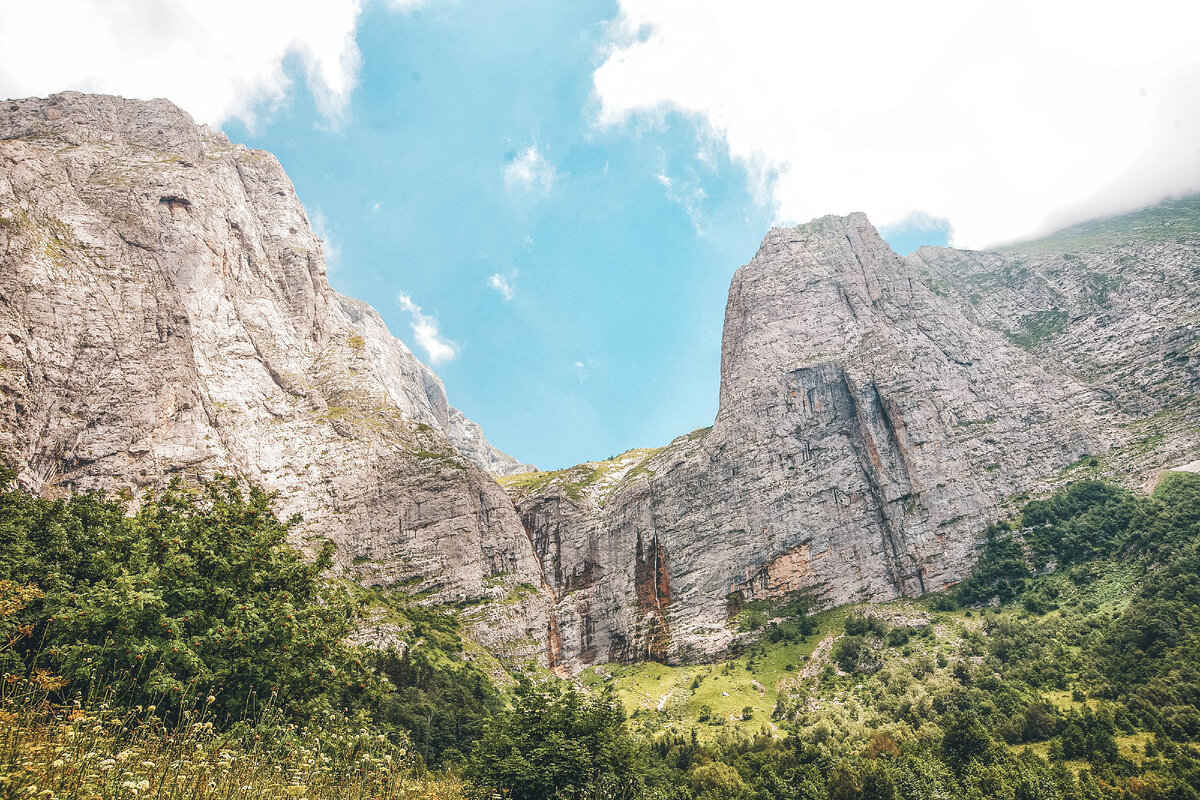 Place coordinates at the end of the article.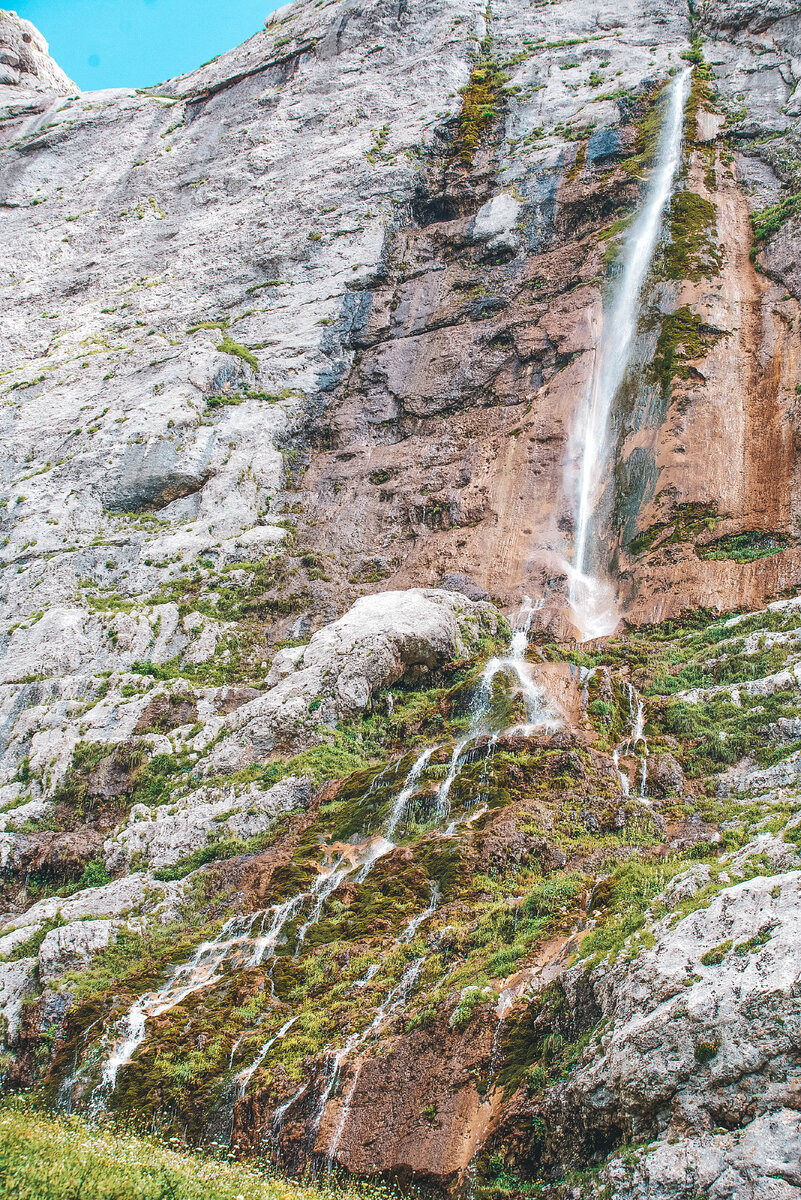 This place is located on the territory of Adygea, literally a few kilometers from the border with the Krasnodar Territory. Waterfalls fall from the Fisht-Oshtenovsky massif, from the western side. These waterfalls are quite easily accessible, even novice tourists will reach there, when we went there, our son was about 3 years old. And he stomped there with his feet absolutely freely.
According to information from various sources that I met on the net, three waterfalls fall there, but we actually saw only two. The third is located aside, we did not go to him, and this is a reason to go there again.
The first waterfall about 200 meters is noticeable even on the way to the mountain range. A powerful jet falls down from a great height.
To the right is the second waterfall, it is about 160 meters high and it falls from a crevice in the rocks.
I wrote about the third one above. Of course, it is worth visiting the waterfalls not during the "dry" period, it is better in the spring, when they are filled and really amaze with their power.
Further, the waterfalls eventually flow into the Pshekha River, running in a stream along the valley for about 3 kilometers. From the waterfall, standing at a high wall with falling waterfalls, you can see a simply stunning view of the valley.
We drove up there by car, then we had a Niva.
It didn't take long to walk. Below, before the ascent, we saw a small campground.
The very last final climb was over coarse, crumbling gravel that made movement difficult. Comfortable shoes are your first assistant when climbing the waterfalls. When you ascend, the altitude will be approximately 1650 meters above sea level.
It should be taken into account that the waterfall is located on the territory of the Caucasian State Natural Biosphere Reserve, and you must follow all the rules prescribed by the reserve: do not tear grass, do not scatter garbage, do not interfere with flora and fauna and their usual life, behave quietly and so on.
Now how to get there:
We drove through the Apsheron district, the village of Chernigovskoe, then the village of Otdalny «Shpalorez». The road is full of signs. From the place where the road can no longer be crossed, we walk about 4 km in one direction.
43.977741, 39.880377
Read and watch also in our Zen:
Walked to the Gebius waterfalls. What to see in the vicinity of Gelendzhik and Arkhipo-Osipovka
Waterfalls 50 km from Krasnodar, Mount Sober-Bash and spring
Bogatyrsky caves. Wild caves in the Krasnodar Territory
Vorontsovskaya cave. A large and very beautiful cave in the Sochi region
Man-made mountain lake in the Partizanskaya glade. Guzeripl