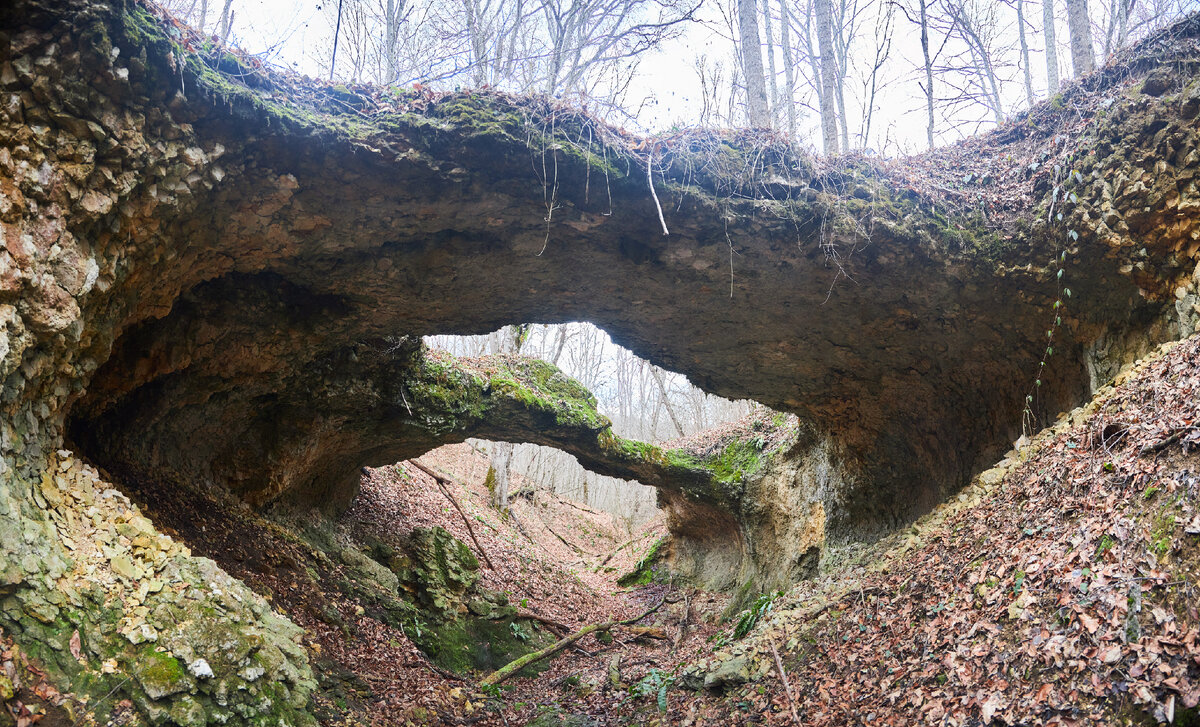 We visited out of season, in January. And even on such a bad and slushy day, the place left a good impression. We have heard about this natural sculpture for a long time, and only this year we have reached it. The route is pleasant in that everything is close and a tourist of any level will reach both objects.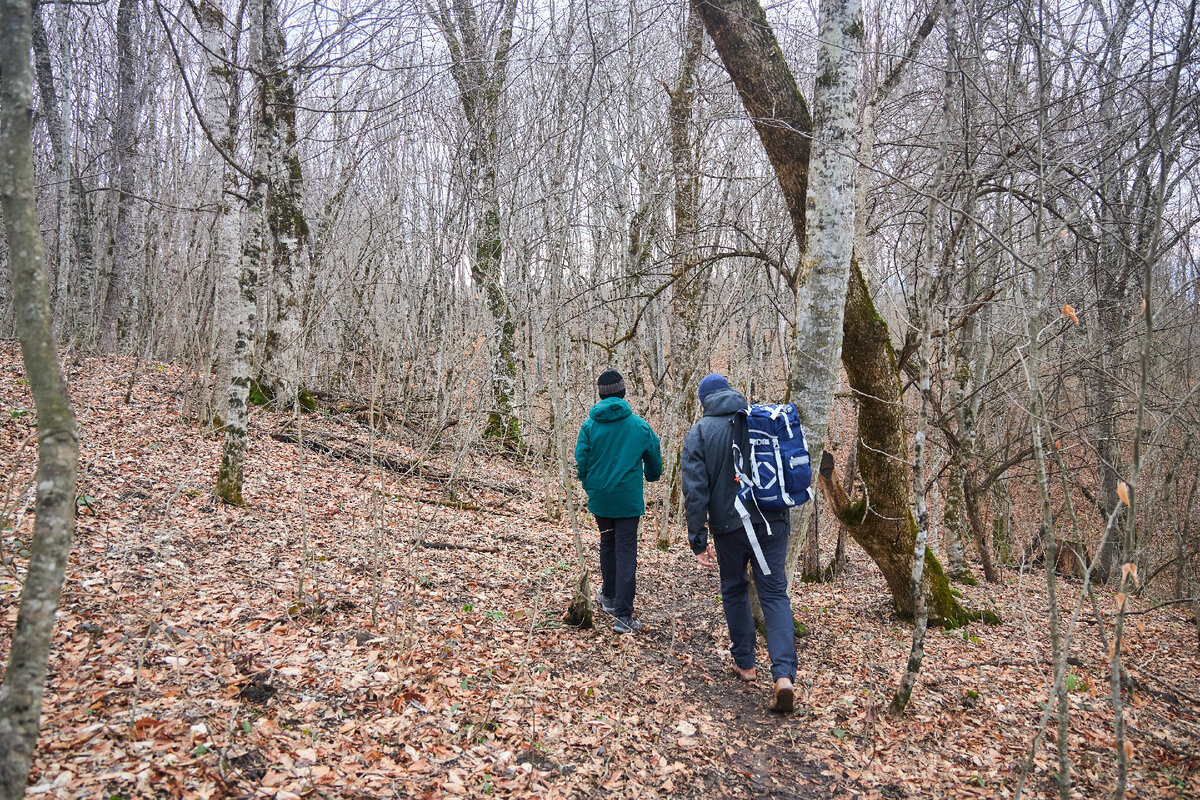 «Bridges» we found surprisingly well, very easily and quickly. We drive along the road from the village of Kamennomostsky towards the village of Pobeda, when we see the Meshoko quarry (there is such a bear standing by the road with the inscription Meshoko), after 30 meters we see the road on the right, going into the forest, which goes around the quarry. 500 meters and we are in place, look at the coordinates. We get out of the car and go into the forest to the right, the path is trampled. We pass 100 meters and here they are handsome.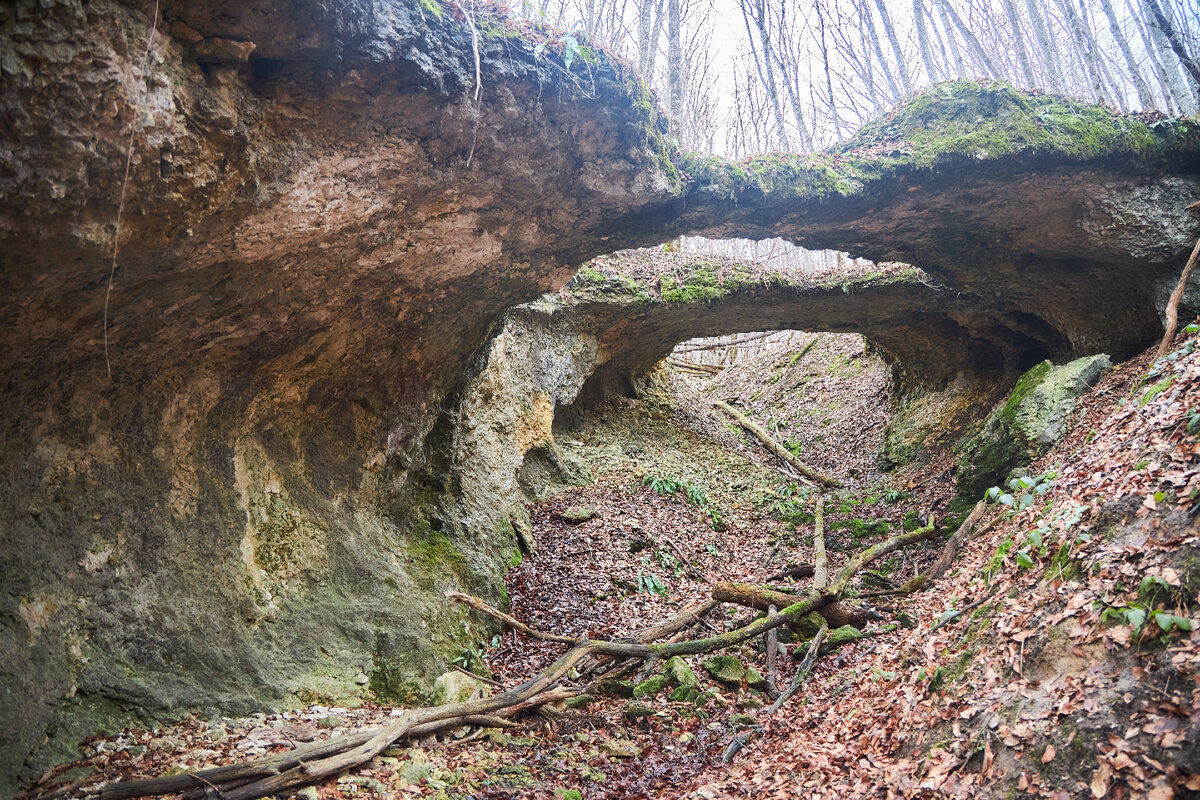 So from above they are not immediately visible, they are sprinkled with foliage. But we found it very quickly, there were no difficulties.
First we went down and examined the area under the bridges. In fact, there were other tourists on top, so we went down to have photos without other people.
But there were not many tourists, this is a plus for hiking in the off-season.
When the platform was free from above, they began to climb to the top one by one.
And here was a small difficulty, consisting in the fact that the ground was damp and slippery. Pretty dirty climbing and clinging to branches and young shoots.
The bridge merges with the surrounding landscape due to the abundance of autumn foliage.
Walking on one of them is quite scary, more because of the slippery ground. Fall pretty high 🙂
Stone bridges coordinates:
44.16206, 40.14491
If you move further across the bridges towards the river (one of the tributaries of the Meshoko), you can go to the waterfall. It is not high, but spectacular, you can combine a visit to the «stone bridges» with a visit to the waterfall.
We literally walked less than a mile. We walked from the bridges towards the river according to the map, well, or according to the coordinates. It is indicated on open maps in MapsMe.
It will be a good walk along with the bridges. Yes, and for any time of the year the route is excellent, but I repeat once again — only in dry weather.
Falls coordinates:
44.273050, 40.246830
More articles and videos from our blog:
We go to the Rufabgo waterfalls along the free trail.
Waterfalls of the Kurdzhips River and its tributaries
Fulfillment of my desire in the Novalishchensky Gorge
Dolmen village. More than 40 dolmens in the forest, found 9.