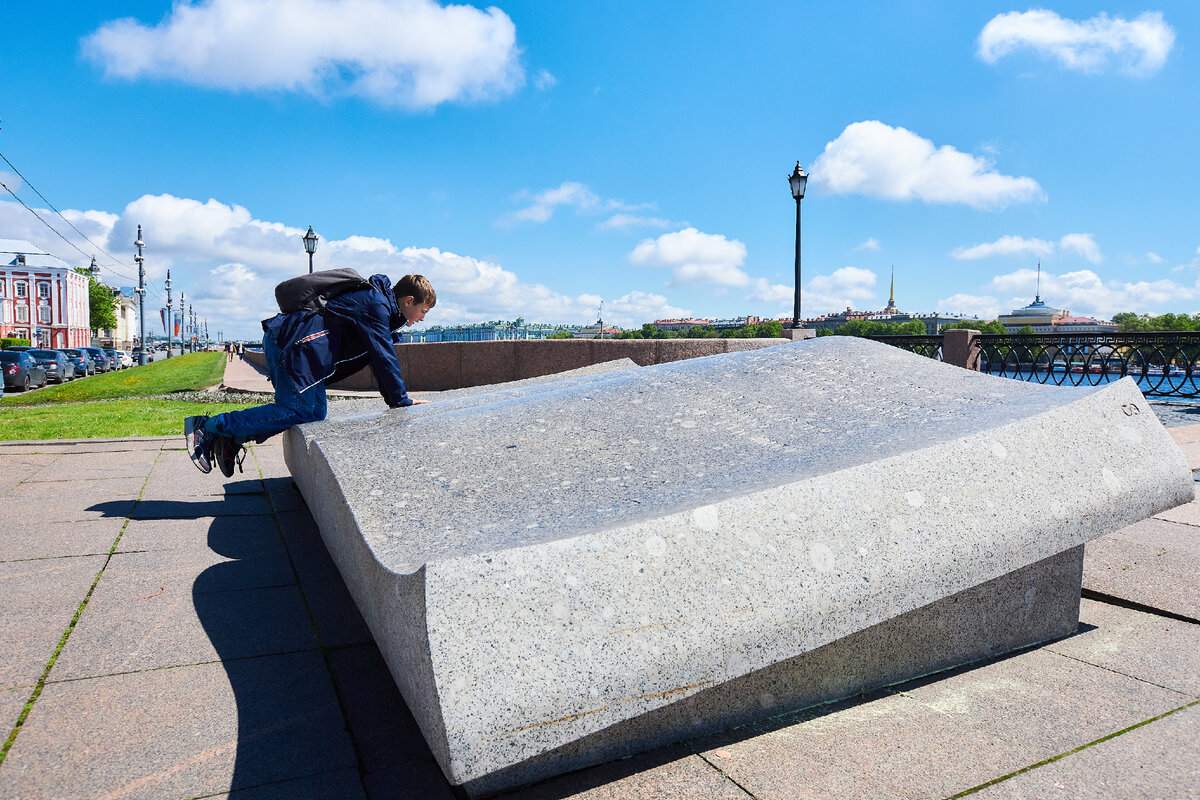 I love you, Petra creation, I love your strict, slender appearance,
Neva sovereign current, Coastal granite
(A. S. Pushkin)
This monument appeared in St. Petersburg relatively recently, in 2002, when the city celebrated its 300th anniversary. An open book, and on it are the poetic lines written above from The Bronze Horseman by the great A. S. Pushkin.
The second name of this monument is "Message through the Ages". We didn't just come here because we were walking by. It was a purposeful planned point in our travel itinerary.
There is a monument on the University embankment. Opposite on the other side of the Neva is St. Isaac's Cathedral and the same Bronze Horseman, the famous sculpture.
The material for the monument is granite, and this is even somehow symbolic. We read the lines from The Bronze Horseman with expression and admired the views that opened up to us from this side of the embankment.
We philosophized a little with my son why the monument is here, why there are lines of this author, from this work, what comparisons and epithets are in these poetic lines.
In general, it is interesting how children perceive many things. Definitely a little different than we adults. And the conclusions they draw, it happens, are different.
You can watch the video with this monument as part of the video:
Read and watch also in our Zen:
St. Petersburg grand layout is the second largest in the worldTHREE WITH A CAMERA26 august 2021 Kitaigorod wallTHREE WITH A CAMERAJune 12 Mount Klementieva. The best viewpoints of Crimea. THREE WITH A CAMERA May 17
Lotus lake, unfinished castle and amazing museum «Geometry of Living».
What to show children in Novorossiysk. Lake Abrau at sunset.