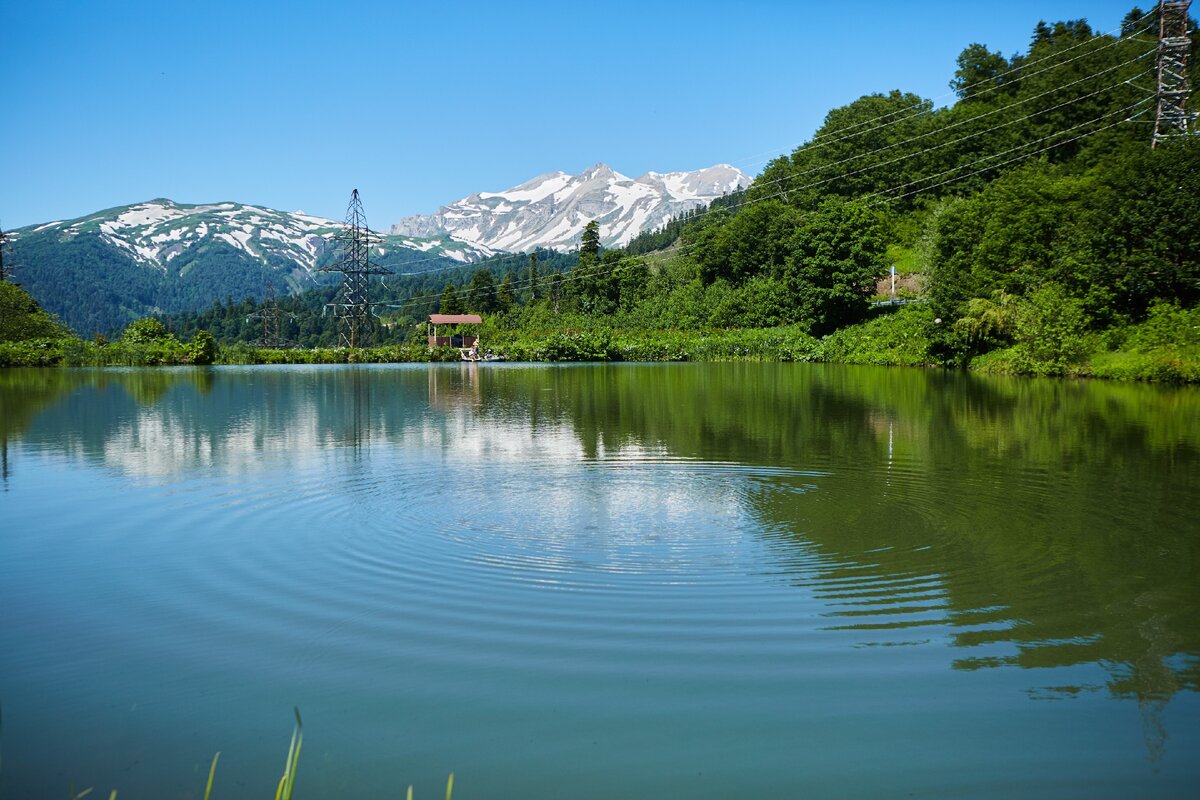 Anyone who has ever traveled to Yavorova Polyana has passed by this lake. It is impossible to drive past it, the road goes around it and it is impossible to miss it. It was formed by installing a dam in the valley and collecting water from streams flowing into the lake. This place is called «Partisan Glade».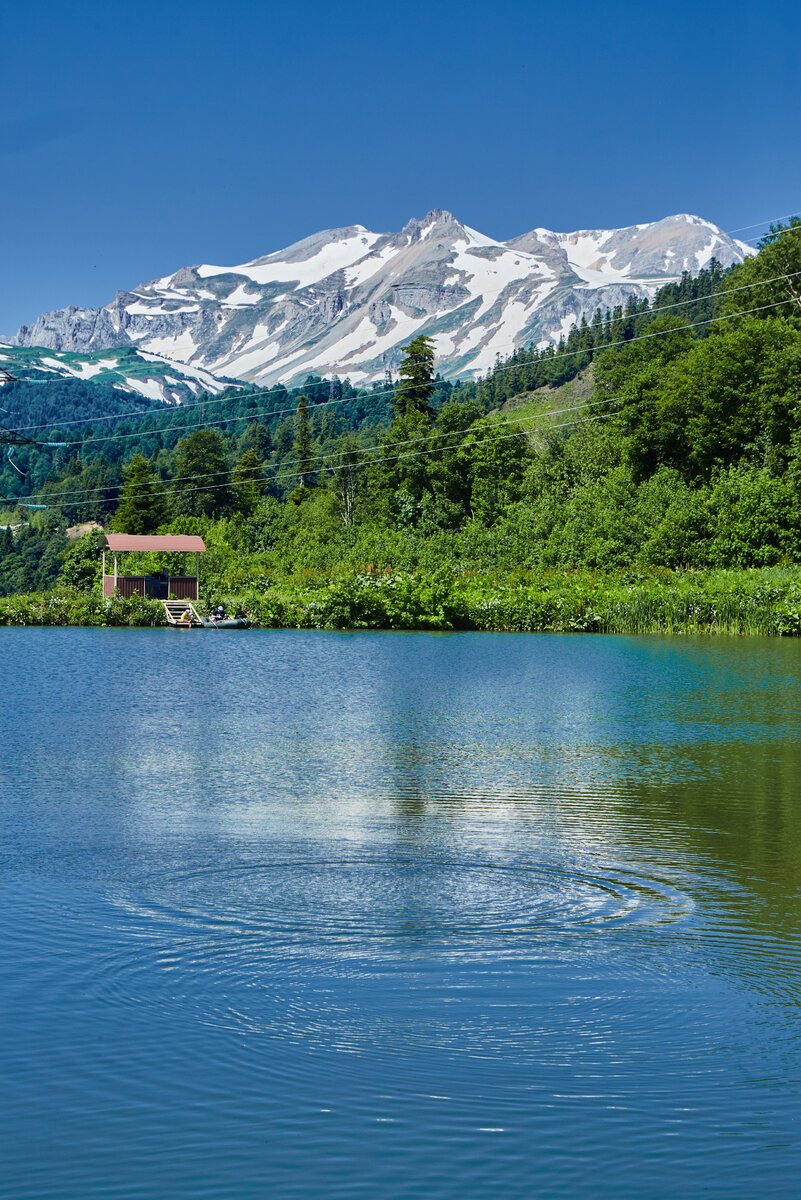 In the distance, the handsome Oshten rises, one of the highest peaks of the Krasnodar Territory, and its almost eternally snow-capped peaks are reflected in the smooth surface of this lake.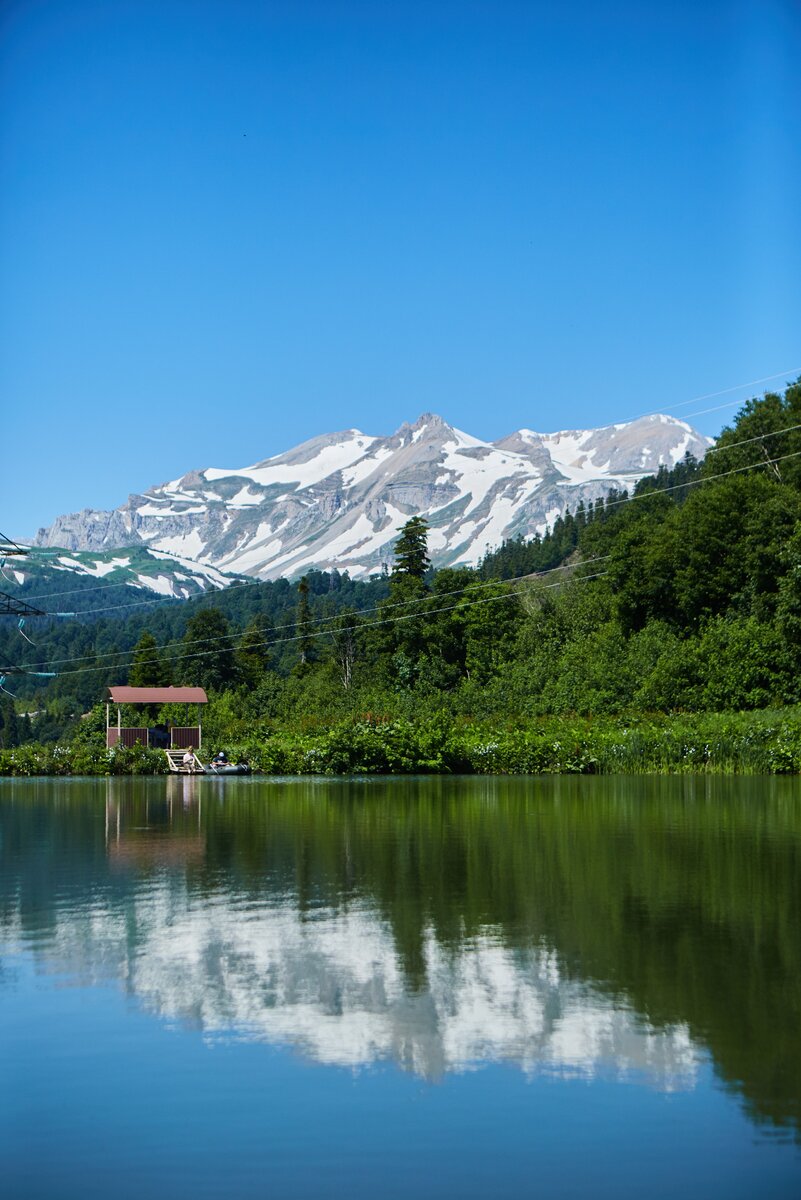 The lake is stocked with fish, now the fishing service is offered to everyone on it. This was not the case when we came here. On both sides, small piers enter the water, it is pleasant to sit on them, and the photos are very spectacular.
General view of the lake from the slope General view of the lake from the slope
Every year at the beginning of June, hundreds of thousands of small tadpoles hatch and begin to grow in the lake in shallow water, it is because of them that we often come here with the children to put their hands in the water and collect air bubbles from them. You just need not to move, and after a few seconds, dozens of tadpoles swim up and carry out the "procedure", which the children and I called "Qua-qua peeling". It's a little ticklish, but definitely fun.
On the slope opposite the lake in June you can find wild strawberries, we found whole thickets of tasty and fragrant berries. You can recognize this place by the remains of an iron yoke standing on a slope, look for it within a radius of 30-50 meters. There you can also find «coltsfoot», a useful and important herb in a green pharmacy.
And now how to get to this lake:
We are going to the village of Guzeripl and as we see a sign with the name of the village, a fairly wide road will go to the right. There will be a constant climb, the ears will lay and there will be constant turns, a lot of turns. Along the way there will be a couple of observation points, you can stop to look. Past the lake, as I already wrote, do not drive. After walking on the lake, drive higher to Yavorova Polyana, where the road is already a dead end, then only for hikers, the reserve.
Guzeripl. partisan glade
44.010932, 40.033544
Read also on our blog:
island of love. Awesome tourist place in Lago-Naki
The first cable car of Adygea. What awaits us at the top
real fir forest. If you want peace and unity with nature