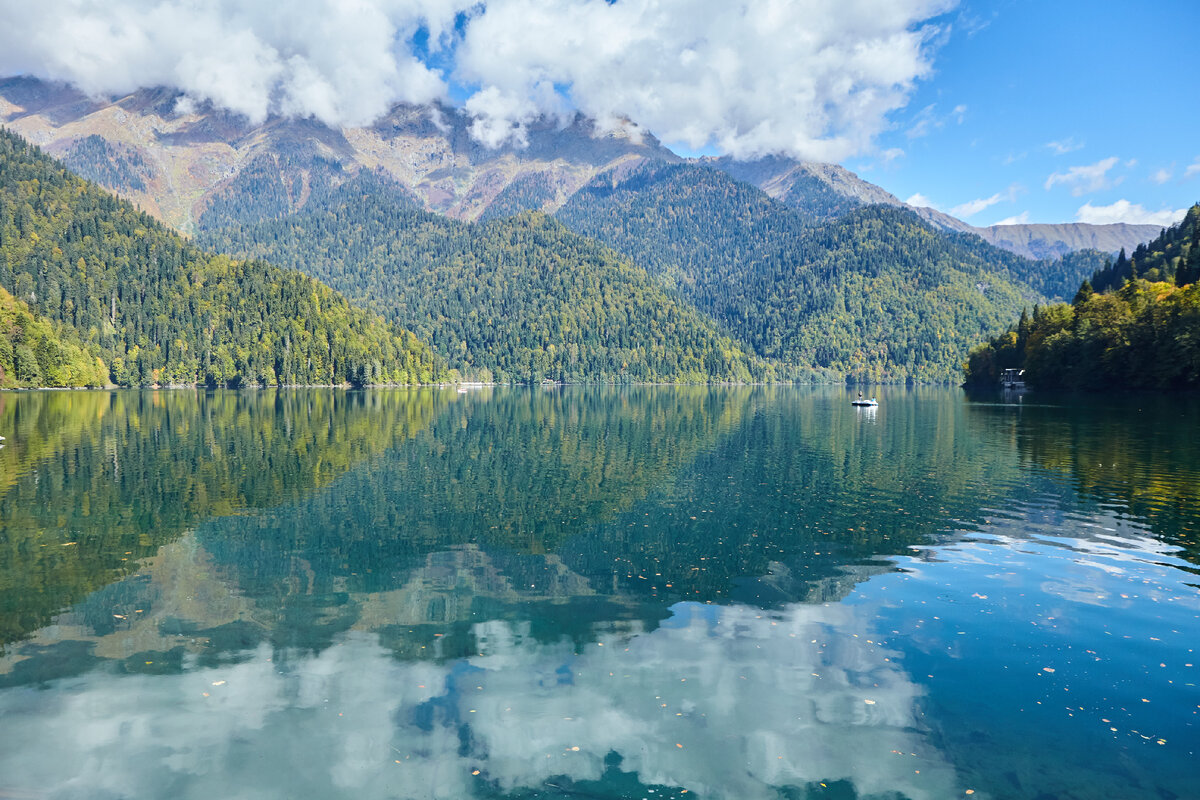 The most beautiful lake with clear mountain water and incredible landscapes. We will walk along its banks and see interesting sights in its vicinity.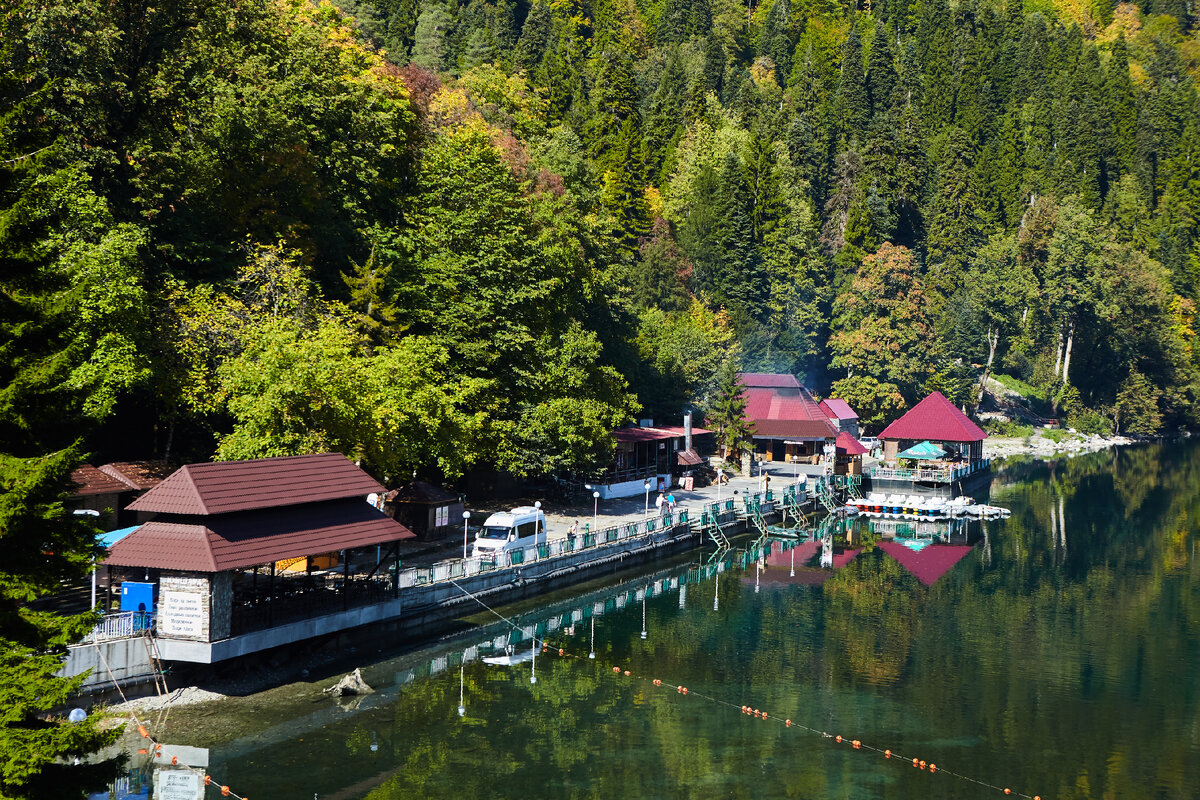 Some geographic information
Lake Ritsa is located at an altitude of 950 meters above sea level.
The length of the lake is about 2.5 km, the width is up to a little over 800 meters in its widest part.
Many mountain rivers flow into it, which feed it with their waters. The largest of them are called Turbaza, Atsetuka, Four Circassians, Lashipsy and Vodopadnaya. Several springs and streams also flow into
The Yupshara River flows out of Lake Ritsa. It flows through the most beautiful Yupsharsky canyon, then flows into the Gega River, and that into the Bzyb River. Further, the waters end up in the Black Sea.
In different directions, the lake is surrounded by mountain peaks, from 2000 meters to 3200 meters high.
The maximum depth of the lake is 120 meters, the average is about 60 meters.
The water temperature in the lake is quite cool, on average about +10 degrees. But in hot August it can rise to 17 degrees. But in winter, on average, about +3 degrees Celsius. In severe winters, the surface can freeze and become covered with ice.
Depending on the season, the lake changes the color of the water from yellow-green to dark blue.
And a fact that I did not know about, but it struck me: Lake Ritsa is only about 250 years old. Yes, it is so young. Part of Mount Pshegishkhva collapsed under the influence of some circumstances and formed a dam and later a lake.
Attractions around Lake Ritsa
We have not been everywhere and there is still a lot to visit. But it's worth it. On the way to the lake there are several interesting places that you will not pass by. There are places for which you need to turn aside, well, those to which you need to drive a prepared car or walk several kilometers on foot. There are a lot of attractions, but I will describe a few of the main ones in our opinion. Let's start from the road to Lake Ritsa from the main road to Sukhum.
Temple in the fortress of the 10th century
It is located almost immediately when turning from the highway to Sukhum onto the road towards Lake Ritsa. Read more about it in this article:
Medieval church of the 10th century. Let's see what's left of her. THREE WITH A CAMERAMarch 31, 2021
Waterfall Maiden's Tears
Dripping waterfall. Small streams flow down the surface of the rock and numerous blades of grass and lianas.
Khasan-Abaa fortress
Located on the mountain. I think you can climb there somehow, but we admired from the road, from where the fortress is clearly visible.
Blue Lake
A beautiful blue lake that never changes its color. The lake is interesting because it never freezes. Also, there are no fish and plankton in it, which is also quite curious.
Waterfall Men's Tears
Spectacular, located right on the highway, therefore easily accessible.
Geg waterfall
A waterfall, according to various sources, from 50 to 70 meters high on the Gega River. Very effective, but with limited availability. You need to go either in an SUV, or hire such a car with a driver for a trip, since there is no shortage of jeeping offers. It was on this waterfall that the fight between Sherlock and Professor Moriarty was filmed. We haven't been yet, but we'll definitely visit.
ancient bridge
We were just driving down the highway and saw it along the way. I don't think you'll miss it either.
Yupshar Canyon
A canyon in a rock of incredible beauty that was split many centuries ago during an earthquake. The Yupshara River flows through the canyon, the height of the rocks is about 400 meters and the length is 8 kilometers.
Chabgar cornice
Gorgeous view point to the valley of the Yupshara river and the Yupshara canyon. Located right in front of the entrance to Lake Ritsa
milky waterfall
Incredibly beautiful and mesmerizing cascading waterfall. Will amaze everyone without exception. Stormy, full-flowing and resembles milk pouring over the rocks.
You can watch it in this short video:
Waterfall «Bird's Beak»
A very picturesque waterfall, located on the road to the mountain village of Auadkhara. The road to it goes from Lake Ritsa, going to the right and up at the fork. Haven't been yet, we'll definitely get there.
Lake Malaya Ritsa
Lake at an altitude of 1235 meters, oval, only about 500 meters long. The place is very beautiful, but not so often visited by tourists. The road to it goes along steep slopes, winding, with elevation changes and is difficult to cross over huge stones and rocks. Also planning to visit.
I hope the article was useful for you and opened at least one new place in these wonderful lands for you. Please express your opinion about this article by commenting and like, I will be very grateful to you! Thank you for reading our blog
Read also in our Zen:
New Athos cave. One of the largest in Abkhazia. But there are even larger THREE WITH A CAMERA April 13, 2021 Anakopia citadel in Abkhazia of the 5th century and a temple of the 7th century. A fortress that withstood the onslaught of the enemyTHREE WITH A CAMERAApril 12, 2021