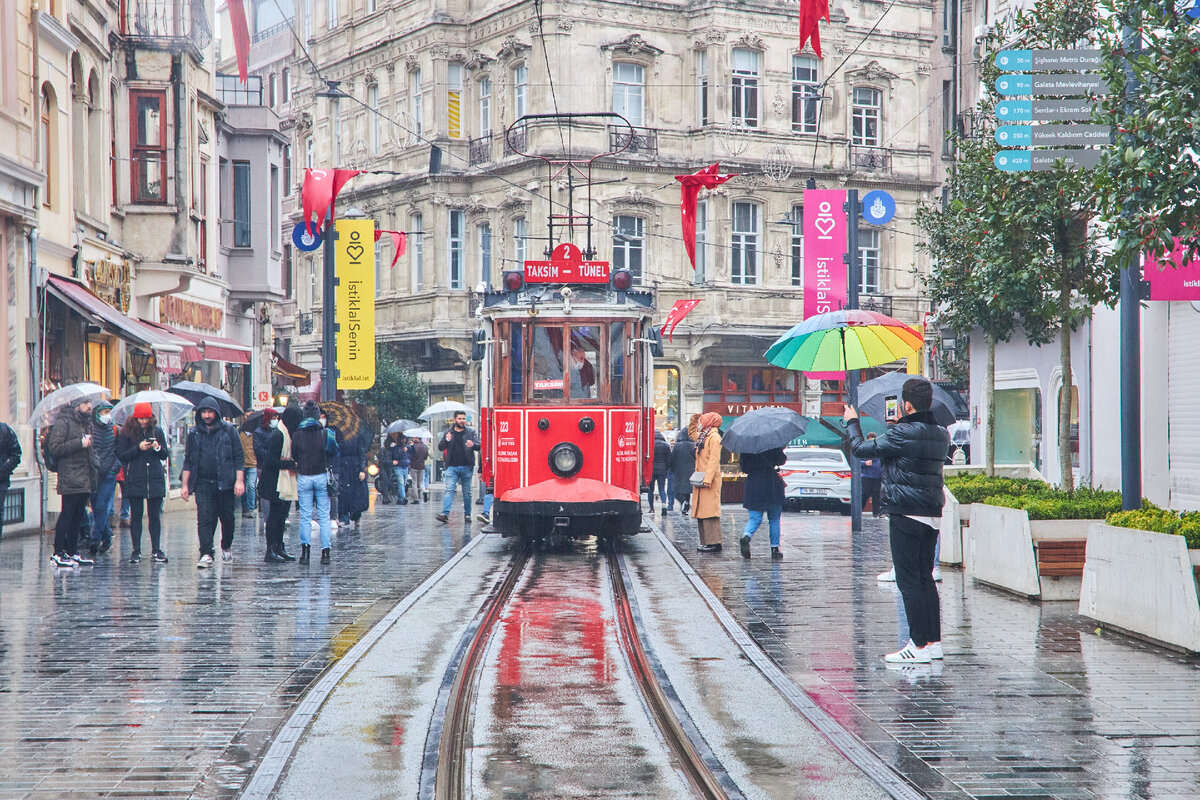 It rained all day in Istanbul, from light to heavy, like a wall. We were soaked through, but this did not stop us from the walk and the planned plans. The previous day was sunny and very warm. I keep stuffing my flash drives tightly with photos. Only the third day in this wonderful city, and the fourth has already gone to waste
. In two and a half days, we got used to the local flavor a little, we already found "our" bakery, Turkish baklava producers, homemade Turkish delight … In short, we set off on a crazy gastro tour
. Well, what if it's tasty and cheap! But about this in a separate article.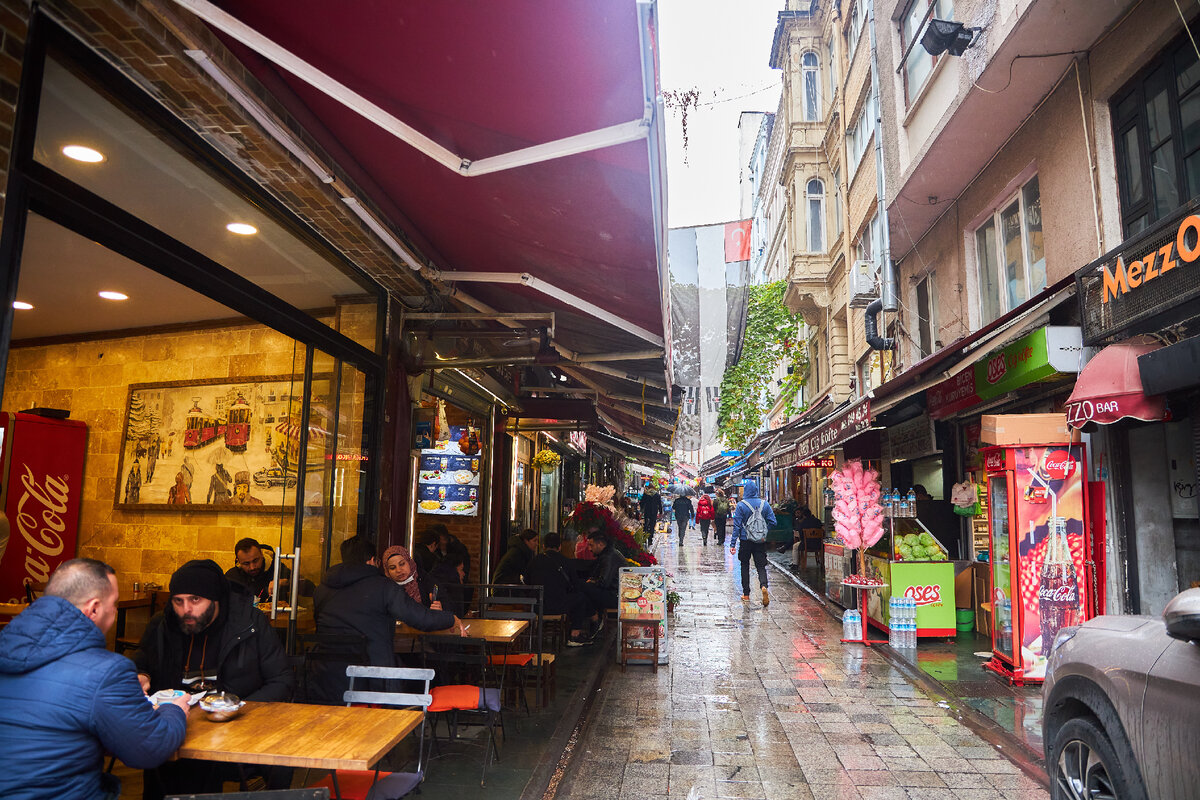 On this day, after visiting the Dolma-Bahce Palace, a walk along Istiklal Street is planned. Not that the rain bothered me much, but it was unpleasant. Of course, he shortened the duration of the walk.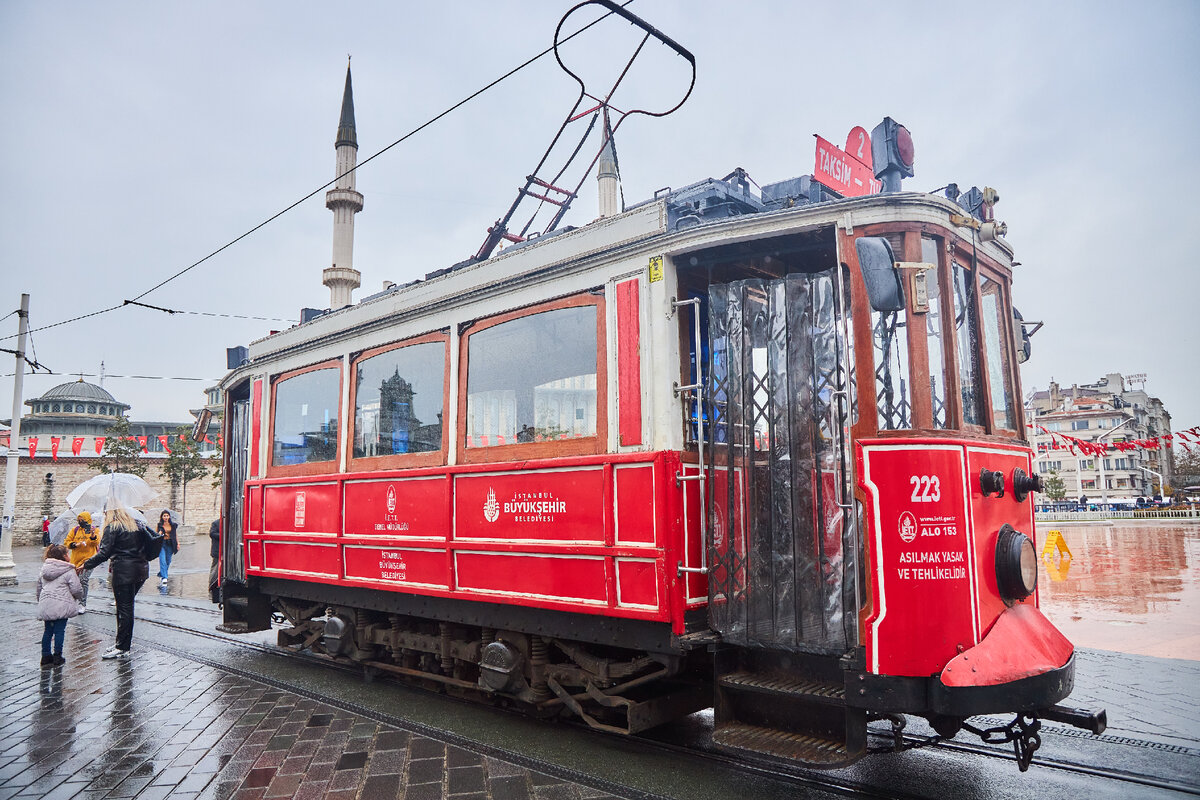 We start from Taksim Square. The old tram T2 runs here. It goes almost to the Galata Tower.
Further directly on these rails and move. Street of boutiques and chains of major brands.
Many people have the same transparent umbrellas. At first they were surprised, then they saw enterprising Turkish sellers with this product.
She kept the camera under her jacket all day, pulled it out for a short period to take a picture and hid it back, the rain sets its own conditions. Of course, if it hadn't been raining, I would have filmed a lot more.
Of course, I was primarily interested in architecture, not brands. There are enough boutiques in the homeland, but here there is a unique and original culture. We raise our heads higher and look over the shops. We see a stained-glass window, and a clock on the building, and a sculpture, and amazing bas-reliefs framing the windows, and carved bars. Stores look like this:
Agree, in this photo architectural delights are lost.
We move on. More shopping galleries.
I look into one of the arches and wonder. There is a Catholic church here. That's amazing! Naturally, you need to look.
Read about this church and its history here:
Church of St. Anthony of Padua in Istanbul.THREE WITH A CAMERAJuly 27
And here is the final stop of the retro tram. Of course, it does not play the role of transport, but of interest. He's part of the area, he's a celebrity, he's a fashion model. Istiklal Street and this tram are inseparable.
Then we all walked under the same downpour to the Galata Tower, saw a queue and decided not to go up. Already on the next visit and in good weather.
Of course, the places we visit are not unique. Istanbul is where practically most of the world's airlines converge. That's why we'll be here often. And there will be more, for sure! We walked around the city and made notes to ourselves about what we would visit on our next visit. And you know, the list is impressive. In the meantime, we are pleased with the places beloved by a large number of tourists, in which many of you have probably already been.
Friends, please express your opinion about this article by commenting and liking, I will be very grateful to you! Thanks to
Read also in our Zen:
Egyptian Bazaar in IstanbulTROE WITH A CAMERAJuly 17 St. Petersburg in 7 days. What did THREE WITH A CAMERA manage to visit during this periodJuly 16, 2021 Sights of the Krasnodar Territory. List of points of interestTHREE WITH A CAMERAJuly 10